Dear Sister Disciple,
I don't think you would be surprised if I told you not to worry, but you might take it personally if I said that worry is irreverent to our Lord.
It is.
Want to learn more?
Reading Plan: Luke 12:22-34 Do Not Worry
The Word
---
Then Jesus said to His disciples, "Therefore, I tell you, do not worry about your life, what you will eat, or about your body, what you will wear, for life is more… For where your treasure is, there your heart will be also."

— Luke 12:22-23 &34
---
---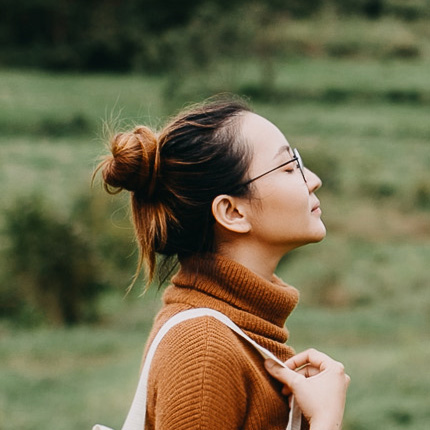 Send Your light and Your faithful care, let them lead me; let them bring me to your holy mountain, to the place you dwell.

— Psalm 43:3
---
Contemplative Reflection
You see, if we would be honest with ourselves, we need the Lord. His light shows us the direction we need to take, and His faithful care keeps us safe. However, if we move away from the light and brush off His faithful care, then we have no other choice but to worry.
The Lord is our constant companion; what are His thoughts concerning worry?
"Don't worry about your life."
Worry sets our mind on the singleness of concern, anxiety, and fret. We struggle and concern ourselves with trouble or difficulty that live more in our imagination than reality.
Worry is the opposite of prayer.
We worry because we do not trust the faithfulness of our Lord. We fret because we suppose He is not as faithful as we thought. We worry because it is the polar opposite of faith. 
Worry is the irreverent attitude toward the Lord, God Almighty.
The things we need transcend the material. Because of our nature, we will get food, and we are going to be clothed. Maybe not the best, but we take better care of ourselves than you think. However, the wary soul will pine away after what is out of her control.
No matter how much treasure you accumulate, the soul needs her treasure from heaven. The Lord is more than sufficient to meet all our needs.
In Summary
Do not worry about your life. The peril of the empty soul is a lifetime of worry. Anxious thoughts do not trust God's light or lean in the safety of His faithful care. God looks after the earth, birds, and even flowers; how much more so will He care for you?
If we are to seek first the kingdom of God, then struggles for the things of this world are sin in God's eyes. Worry separates us from the Lord. A true mark of irreverence. 
So How Now Should I Live?
Worry gets you nowhere fast!
Worry may be something you learned as a child. I know I did. My mom was worried when there was nothing to worry her. It took me years to realize that worry was a habit I needed to relinquish to the Lord.
He still reminds us of His faithful care and light.
Make a worry list – write down in a journal or a notebook all your concerns. Then, go to the Secret Place and lay that list before the Lord. Ask Him to send your His light and faithful care. 
Trust me; once you've reverently brought your worries before the Creator of Heaven and Earth, your worries will fade in the presence of His faithful care.